| | |
| --- | --- |
| Showing 1 to 1 of 1 auctions | |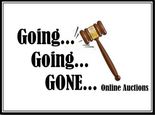 Going Going Gone online Auctions
Address: 3806 Rufe Snow Dr, North Richland Hills, TX 76180 / Phone: 817-891-8504
Categories: Computers & Electronics, Tools & Hardware, Housewares & Home Decor, Toys & Games, Sports & Outdoors, Lawn & Garden, Clothing & Accessories, Vintage & Antiques, Artwork & Prints, Business Liquidations, Furniture, Machinery & Industrial, Estate Liquidation, Music Instruments, Health & Beauty, Misc. items, Books, Charity & Fund raisers
218 Items
Closing Friday
1d 23h 34m
WONDERFULL DECEMBER AUCTION:
Closing FRIDAY: 12/13/2019 7:00 pm
PLEASE PREVIEW - ALL ITEMS SOLD AS IS.
BUYERS MUST BRING OWN EQUIPMENT, TOOLS AND LABOR TO REMOVE ITEMS;
THIS AUCTION INCLUDES: #BEDROOM SUITE #LIVINGROOM SVITE #COLLECTABLES #FURNITURE #PROPANE GRILL # COLLECTABLES #HAND AND POWER TOOLS #VINTAGE ITEMS #HOME DECOR #COMMERICAL / CAR AND HOUSE GLASS CLEANER # RAINBOW INSTANT HAND SANITIZER #SPORTS ITEMS AND MEMORABILIA #CARTS #SANI ZIDE PLUS GERMICIDAL SOLUTION #AND LOTS MORE
PREVIVEW
THURSDAY - 12/11/19
10:00a.m. to 2:00 p.m.
CLOSING
FRIDAY- 12/13/2019
7:00 p.m.
PICK-UP/REMOVAL
SUNDAY- 12/15/2019
10:00 A.M. to 4:00 P.M. Only.
PLEASE BID ONLY IF YOU CAN PICK UP AT SCHEDULED DATE AND TIMES
Auction Location: 3806 Rufe Snow Dr, North Richland Hills, TX 76180 / Phone: 817-891-8504
All photos & descriptions of this auction are copyright protected intellectual property of Going Going Gone Auctions ©
NOW TAKING "SQUARE" ON LINE PAYMENTS