| | |
| --- | --- |
| Showing 1 to 2 of 2 auctions | |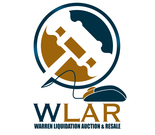 Warren Liquidation Auction & Resale
Address: 2529-H MINNIS DRIVE, Haltom City, TX 76117 / Phone: 817-881-3136
Categories: Computers & Electronics, Tools & Hardware, Housewares & Home Decor, Toys & Games, Sports & Outdoors, Lawn & Garden, Firearms & Ammunition, Clothing & Accessories, Jewelry & Watches, Gaming gear, Glassware, Vintage & Antiques, Artwork & Prints, Silver & Gold, Coins & Currency, Business Liquidations, Furniture, Machinery & Industrial, Estate Liquidation, Automotive Parts, Automobiles, Appliances, Music Instruments, DVD movies & CD's, Health & Beauty, Misc. items, Books
252 Items
#GOLD #SILVER #10K #14K #STERLING #925 #MACY'S #WATCHES #BRACELETS #BROOCHES #RINGS #EARRINGS #NECKLACE #INSPIREDLIFE
ONE DAY PICK UP ANY AND ALL INVOICE NOT PAID AND PICKED UP BY END OF PICK UP TIME WILL BE CHARGED $25 LATE PICK FEE REGARDLESS OF PRICE OF INVOICE
ALL ITEMS SOLD "AS IS"
Caveat Emptor (Buyer Beware) all items sold as is. Content condition and authenticity are unknown. No guarantees or warranties expressed or implied. No refunds or exchanges will be given. No assumptions should be made about any items in this auction. Buyer is responsible to have inspected thoroughly the merchandise and satisfied themselves of its quantity, condition, value, title and bid based upon that judgment solely.
BIDDERS PLEASE CHECK YOU DASHBOARD (INVOICES TAB) FOR YOUR WINNING INVOICE. DUE TO SPAM AND ANTIVIRUS FILTERS INVOICES MAY NOT BE RECEIVED BY SOME EMAIL SERVICES.
PREVIEW
5/25/19 12 PM TO 3PM
CLOSING
5/25/19 7PM
PICK-UP/REMOVAL
5/26/19 12PM TO 5PM
ONE DAY PICK UP ONLY
***ANY AND ALL LATE PICK UPS WILL BE CHARGED $25 LATE PICK UP FEE***
LOCAL PICK UP
LIMITED & NATIONWIDE SHIPPING AVAILABLE
SHIPPING AND HANDLING FEES APPLY
SHIPPING OF ALL FRAGILE ITEMS WILL BE SHIPPED VIA UPS
CONTACT WARREN LIQUIDATION AUCTION & RESALE 817-881-3136 WITH QUESTIONS REGARDING LIMITED SHIPPING
Buyer must remove ALL items won and may be charged a removal/disposal fee for any items not removed from auction site and bidding privileges may be revoked/suspended.
ALL WINNING BIDDERS ARE RESPONSIBLE FOR PACKING THEIR OWN ITEMS AND ARE ENCOURAGED TO BRING BOXES, BAGS, TOTES AND ANY OTHER PACKING MATERIALS NEEDED TO PACK ITEMS. PER POLICY WLAR STAFF CAN NOT PACK ANY ITEMS FOR WINNING BIDDERS
WINNING BIDDERS ARE RESPONSIBLE FOR ANY AND ALL ITEMS LEFT BEHIND. PLEASE CHECK YOUR INVOICE BEFORE LEAVING AUCTION PICK-UP. W.L.A.R IS NOT RESPONSIBLE FOR ANY ITEM LEFT BEHIND BY BUYER.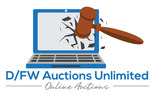 DFW Auctions Unlimited
Address: 201 OAK FOREST DR., Highland Village, TX 75077 / Phone: 817-500-6511
Categories: Computers & Electronics, Tools & Hardware, Housewares & Home Decor, Toys & Games, Sports & Outdoors, Lawn & Garden, Firearms & Ammunition, Clothing & Accessories, Jewelry & Watches, Gaming gear, Glassware, Vintage & Antiques, Artwork & Prints, Silver & Gold, Coins & Currency, Furniture, Estate Liquidation, Automotive Parts, Automobiles, Appliances, DVD movies & CD's, Health & Beauty, Misc. items, Books
345 Items
Closing Thursday
5d 6h 3m
THIS AUCTION INCLUDES #MERCEDES BENZ, #CADILLAC, #LT1 CORVETTE MOTOR, #CRAFTSMAN TOOL BOX, #CAMPBELL HAUSFELD COMPREESOR, CAMPBELL HAUSFELD PNEUMATIC WRENCHES, #BOSCH ROTOZIP, #SKIL SAW, #BLACK AND DECKER TOOLS, #HENREDON FURNITURE, #BRASS COLLECTION. #COPPER COLLECTION, #ANTIQUE OIL LAMPS, #VINTAGE 1947 MAHOGANY FURNITURE, #SARD U.S. NAVY BINOCULARS, #DELTA MITER SAW, #PIONEER SOUND SYSTEM, #AUDIOVOX CAR STEREOS, #MORGAN DOLLARS, #BARBER COINS, #SILVER, #NOITAKE CHINA, #CRYSTAL, #MERCURY ALPHA OUTDRIVE, #NINTENDO GAME SYSTEM, #VINTAGE CAMERAS, #WHIRLPOOL, #GE, #OTC GENISYS EVO, #MATCO SCANNER, #CANON CAMERA, #NIKON CAMERA, #WROUGHT IRON FURNITURE, #VINTAGE FISHING, #WINCHESTER SHOTGUN, #SPRINGFIELD RIFLE, #IROBOT ROMBA, #LG TELEVISION. #FRENCH LIMOGES, #CAPODIMONTE PORCELAIN, #COINS, #BOSE WAVE RADIO, #CULTURED PEARLS,#GOLD, #WARTIME CURRENCY, #SPRINGFIELD RIFLE, #WYATT EARP .44 REPLICA, #BEANIE BABIES AND MUCH MORE!
NEW LOTS HAVE BEEN ADDED TO END OF AUCTION
*ALL TITLES TO VEHICLES HAVE BEEN FOUND*
AUCTION PREVIEW IS WEDNESDAY MAY 29TH, 2019 FROM 10:00AM-2:00PM
AUCTION CLOSES AT THRUSDAY MAY 30TH, 2019 AT 8:00PM
*2 DAY AUCTION PICKUP*
DAY 1: PICKUP FRIDAY MAY 31ST, 2019 10:00AM-6:00PM
DAY 2: PICKUP SATURDAY JUNE 1ST, 2019 9:00AM-5:00PM