| | |
| --- | --- |
| Showing 1 to 2 of 2 auctions | |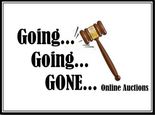 Going Going Gone online Auctions
Address: 3806 Rufe Snow, North Richland Hills, TX 76180 / Phone: 817-891-8504
Categories: Computers & Electronics, Tools & Hardware, Housewares & Home Decor, Toys & Games, Sports & Outdoors, Lawn & Garden, Clothing & Accessories, Jewelry & Watches, Gaming gear, Glassware, Vintage & Antiques, Artwork & Prints, Silver & Gold, Coins & Currency, Business Liquidations, Furniture, Estate Liquidation, Automotive Parts, DVD movies & CD's, Health & Beauty, Misc. items
296 Items
Closing Thursday
5d 18h 7m
WE HAVE SOMETHING FOR EVERYONE. #COLLECTABLES #DISHES #TOOLS #FITNESS #LAWN #ART #OFFICE #TOYS #ELECTRONICS #BAR ITEMS #COLLECTIBLES # AND MORE.
PREVIEW; PLEASE DO. - 6/27/2018 @ 10:00 A.M. to 3:00 P.M.
PICK-UP/REMOVAL - 6/29/2018 @ 10:00 A.M. to 4:00 P.M.
NO CHECKS NO SHIPPING
CONTACT ; Triple G auctions @ 817-891-8504 WITH QUESTIONS.
ALL WINNING BIDDERS ARE RESPONSIBLE FOR LOADING AND PACKING THEIR OWN ITEMS AND ARE INCOURAGED TO BRING HELP, BOXES, BAGS, TOTES AND ANY OTHER PACKING MATERIALS NEEDED TO PACK ITEMS.
BUYERS ARE RESPONSIBLE FOR INSPECTION AND OR TESTING OF ITEMS DURING PREVIEW TIMES ONLY....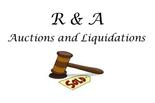 R & A Auctions & Liquidations
Address: 3020 I-20 West, Grand Prairie, TX 75052 / Phone: 972-998-4874
Categories: Computers & Electronics, Tools & Hardware, Housewares & Home Decor, Toys & Games, Sports & Outdoors, Lawn & Garden, Clothing & Accessories, Jewelry & Watches, Gaming gear, Glassware, Vintage & Antiques, Artwork & Prints, Business Liquidations, Furniture, Machinery & Industrial, Estate Liquidation, Automotive Parts, Appliances, DVD movies & CD's, Health & Beauty, Misc. items
100 Items
***COMING SOON --- WAREHOUSE CLEARING AUCTION***
Everything must go!
Something for everyone... Furniture, vintage treasures, collectibles, electronics, housewares and decor, glassware, tools, computer parts/components, crystal ware, lamps, seasonal items, lots of new ribbon, sports and outdoors, and much more!!
Items will be added regularly until entire warehouse is processed so keep checking back!
Starts: TBD
Closes: July 5, 2018 starting at 7:00 pm
PIck up: TBD