| | |
| --- | --- |
| Showing 1 to 2 of 2 auctions | |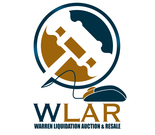 Warren Liquidation Auction & Resale
Address: 2529-H MINNIS DRIVE, Haltom City, TX 76117 / Phone: 817-881-3136
Categories: Computers & Electronics, Tools & Hardware, Housewares & Home Decor, Toys & Games, Sports & Outdoors, Lawn & Garden, Firearms & Ammunition, Clothing & Accessories, Jewelry & Watches, Gaming gear, Glassware, Vintage & Antiques, Artwork & Prints, Silver & Gold, Coins & Currency, Business Liquidations, Furniture, Machinery & Industrial, Estate Liquidation, Automotive Parts, Automobiles, Appliances, Music Instruments, DVD movies & CD's, Health & Beauty, Misc. items
200 Items
Closing Friday
3d 18h 22m
W.L.A.R AUCTION HAS SOMETHING FOR EVERYONE. #COLLECTABLES #DISHES #TOOLS #FITNESS #LAWN #ART #OFFICE #BELAIR #CHEVY AND MORE.
BIDDERS PLEASE CHECK YOU DASHBOARD (INVOICES TAB) FOR YOUR WINNING INVOICE. DUE TO SPAM AND ANTIVIRUS FILTERS INVOICES MAY NOT BE RECEIVED BY SOME EMAIL SERVICES.
PREVIEW;
FRI 7/20/18 12PM TO 3PM
CLOSING
FRI 7/20/18 @ 7PM
PICK-UP/REMOVAL
SUN 7/22/18 12PM TO 6PM
AS ALWAYS, WARREN LIQUIDATION AUCTION & RESALE (WLAR) ALLOW PICK UP TIMES CAN BE SCHEDULED. NO FRETTING ABOUT BEATING A DEADLINE. SCHEDULED PICK-UPS OUTSIDE OF PICK-UP/REMOVAL TIME MUST BE PAID AT TIME OF SCHEDULING. STORAGE FEES MAY APPLY DEPENDING ON SIZE OF ITEM
LOCAL PICK UP
LIMITED & NATIONWIDE SHIPPING AVAILABLE - SHIPPING AND HANDLING FEES APPLY
SHIPPING OF ALL FRAGILE ITEMS WILL BE SHIPPED VIA UPS
CONTACT WARREN LIQUIDATION AUCTION & RESALE 817-881-3136 WITH QUESTIONS REGARDING LIMITED SHIPPING
ALL WINNING BIDDERS ARE RESPONSIBLE FOR PACKING THEIR OWN ITEMS AND ARE ENCOURAGED TO BRING BOXES, BAGS, TOTES AND ANY OTHER PACKING MATERIALS NEEDED TO PACK ITEMS. PER POLICY WLAR STAFF CAN NOT PACK ANY ITEMS FOR WINNING BIDDERS
ALL ITEMS ARE TESTED AND IN WORKING CONDITION UNLESS OTHERWISE NOTED IN LOT DESCRIPTION. INSPECTION AND OR TESTING OF ITEMS ARE ALLOWED DURING PREVIEW TIMES ONLY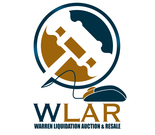 Warren Liquidation Auction & Resale
Address: 2529-H MINNIS DRIVE, Haltom City, TX 76117 / Phone: 817-881-3136
Categories: Computers & Electronics, Tools & Hardware, Housewares & Home Decor, Toys & Games, Sports & Outdoors, Lawn & Garden, Firearms & Ammunition, Clothing & Accessories, Jewelry & Watches, Gaming gear, Glassware, Vintage & Antiques, Artwork & Prints, Silver & Gold, Coins & Currency, Business Liquidations, Furniture, Machinery & Industrial, Estate Liquidation, Automotive Parts, Automobiles, Appliances, Music Instruments, DVD movies & CD's, Health & Beauty, Misc. items
20 Items
.L.A.R AUCTION HAS SOMETHING FOR EVERYONE. #COLLECTABLES #DISHES #TOOLS #FITNESS #LAWN #ART #OFFICE AND MORE.
PREVIEW;
SAT 8/4/18 12 TO 3PM
CLOSING
SAT 8/4/18 AT 7PM
PICK-UP/REMOVAL
SUN 8/5/18 12PM TO 6PM
AS ALWAYS, WARREN LIQUIDATION AUCTION & RESALE (WLAR) ALLOW PICK UP TIMES CAN BE SCHEDULED. NO FRETTING ABOUT BEATING A DEADLINE. SCHEDULED PICK-UPS OUTSIDE OF PICK-UP/REMOVAL TIME MUST BE PAID AT TIME OF SCHEDULING. STORAGE FEES MAY APPLY DEPENDING ON SIZE OF ITEM
LOCAL PICK UP
LIMITED & NATIONWIDE SHIPPING AVAILABLE
SHIPPING AND HANDLING FEES APPLY
SHIPPING OF ALL FRAGILE ITEMS WILL BE SHIPPED VIA UPS
CONTACT WARREN LIQUIDATION AUCTION & RESALE 817-881-3136 WITH QUESTIONS REGARDING LIMITED SHIPPING
ALL WINNING BIDDERS ARE RESPONSIBLE FOR PACKING THEIR OWN ITEMS AND ARE ENCOURAGED TO BRING BOXES, BAGS, TOTES AND ANY OTHER PACKING MATERIALS NEEDED TO PACK ITEMS. PER POLICY WLAR STAFF CAN NOT PACK ANY ITEMS FOR WINNING BIDDERS
ALL ITEMS ARE TESTED AND IN WORKING CONDITION UNLESS OTHERWISE NOTED IN LOT DESCRIPTION. INSPECTION AND OR TESTING OF ITEMS ARE ALLOWED DURING PREVIEW TIMES ONLY