| | |
| --- | --- |
| Showing 1 to 2 of 2 auctions | |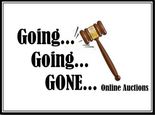 Going Going Gone online Auctions
Address: 3802 Rufe Snow Dr, North Richland Hills, TX 76180 / Phone: 817-891-8504
Categories: Tools & Hardware, Housewares & Home Decor, Toys & Games, Sports & Outdoors, Lawn & Garden, Jewelry & Watches, Vintage & Antiques, Artwork & Prints, Silver & Gold, Coins & Currency, Business Liquidations, Machinery & Industrial, Estate Liquidation, Automotive Parts, DVD movies & CD's, Health & Beauty, Misc. items
253 Items
Closing Thursday
2d 12h 41m
STORAGE UNIT REDUCTION AUCTION
MORE ITEMS HAVE BEEN ADDED
Closing Thursday: 7/25/2019 07:00 pm CDT
PLEASE PREVIEW - ALL ITEMS SOLD AS IS.
JUST CALL 817-891-8504 TO SET A DATE AND TIME FOR YOU TO PREVIEW
BUYERS MUST BRING OWN EQUIPMENT, TOOLS AND LABOR TO REMOVE ITEMS;
THIS AUCTION INCLUDES: #GOLD AND SILVER COINS #2007-BALWIN MODEL M BABY GRAND PANIO #BEER SIGNS #COLLECTABLES #VINTAGE ITEMS #HUNTING AND COLLECTABLE KNIFES #LICENSE PLATES #HOME DECOR #NASCAR COLLECTABLES # MANNEQUIN HEADS #COMMERICAL / CAR AND HOUSE GLASS CLEANER # RAINBOW INSTANT HAND SANITIZER #SPORTS MEMORABILIA #CARTS #VCR MOVIES #LARGE ROLLS OF COMMERCIAL PACKING TAPE #SHIPPING COOLERS #SANI ZIDE PLUS GERMICIDAL SOLUTION #SLOT MACHINE GLASS #AND LOT MORE.....
PREVIEW;
By Appointment Only:
Call 817-891-8504 to Schedule
CLOSING;
Thursday 07/25/2019 07:00 pm
PICK-UP/REMOVAL;
Saturday 07/27/2019
10:00 A.M. to 4:00 P.M. Only.
PLEASE BID ONLY IF YOU CAN PICK UP AT SCHEDULED DATE AND TIMES
Auction Location: 3806 Rufe Snow Dr, North Richland Hills, TX 76180 / Phone: 817-891-8504
All photos & descriptions of this auction are copyright protected intellectual property of Going Going Gone Auctions ©
NOW TAKING "SQUARE" ON LINE PAYMENTS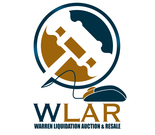 Warren Liquidation Auction & Resale
Address: 2529-H MINNIS DRIVE, Haltom City, TX 76117 / Phone: 817-881-3136
Categories: Computers & Electronics, Tools & Hardware, Housewares & Home Decor, Toys & Games, Sports & Outdoors, Lawn & Garden, Firearms & Ammunition, Clothing & Accessories, Jewelry & Watches, Gaming gear, Glassware, Vintage & Antiques, Artwork & Prints, Silver & Gold, Coins & Currency, Business Liquidations, Furniture, Machinery & Industrial, Estate Liquidation, Automotive Parts, Automobiles, Appliances, Music Instruments, DVD movies & CD's, Health & Beauty, Misc. items, Books
118 Items
ALL ITEMS SOLD "AS IS"
Caveat Emptor (Buyer Beware) all items sold as is. Content condition and authenticity are unknown. No guarantees or warranties expressed or implied. No refunds or exchanges will be given. No assumptions should be made about any items in this auction. Buyer is responsible to have inspected thoroughly the merchandise and satisfied themselves of its quantity, condition, value, title and bid based upon that judgment solely.
PREVIEW
8/3/19 12PM TO 3PM
CLOSING
8/3/19 AT 7PM
PICK-UP/REMOVAL
8/4/19 12PM TO 5PM
ONE DAY PICK UP ONLY
LOCAL PICK UP
LIMITED & NATIONWIDE SHIPPING AVAILABLE
SHIPPING AND HANDLING FEES APPLY
SHIPPING OF ALL FRAGILE ITEMS WILL BE SHIPPED VIA UPS
CONTACT WARREN LIQUIDATION AUCTION & RESALE 817-881-3136 WITH QUESTIONS REGARDING LIMITED SHIPPING