| | |
| --- | --- |
| Showing 1 to 3 of 3 auctions | |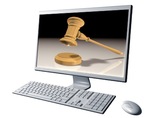 Warren Liquidation Auction & Resale
Address: 4017-H CLAY AVE, Haltom City, TX 76117 / Phone: 214-308-1480
Categories: Computers & Electronics, Tools & Hardware, Housewares & Home Decor, Toys & Games, Sports & Outdoors, Lawn & Garden, Jewelry & Watches, Gaming gear, Glassware, Vintage & Antiques, Artwork & Prints, Coins & Currency, Business Liquidations, Furniture, Machinery & Industrial, Estate Liquidation, Automotive Parts, Automobiles, Appliances, Music Instruments, DVD movies & CD's
216 Items
TOOLS, TOYS AND MORE AUCTION HAS SOMETHING FOR EVERYONE. #MINK #TOOLS #FITNESS #LAWN #ART #OFFICE AND MORE.
PREVIEW;
SAT 11/25/17 1:00 PM - 4:00 PM
LOT 4 CHEVY IMPALA PREVIEW BY APPT ONLY. VEHICLE CAN PREVIEWED AND TEST DRIVEN BY APPT ANYTIME BETWEEN 11/15/17 AND DAY OF CLOSING
CLOSING
MON 11/27/17 11:PM
PICK-UP/REMOVAL
TUES 11/28/17 10:00 AM - 4:00 PM
AS ALWAYS, WARREN LIQUIDATION AUCTION & RESALE (WLAR) ALLOW PICK UP TIMES TO BE SCHEDULED. NO FRETTING ABOUT BEATING A DEADLINE. SCHEDULED PICK-UPS OUTSIDE OF PICK-UP/REMOVAL TIME MUST BE PAID AT TIME OF SCHEDULING. STORAGE FEES MAY APPLY DEPENDING ON SIZE OF ITEM
LOCAL PICK UP
LIMITED & NATIONWIDE SHIPPING AVAILABLE
SHIPPING AND HANDLING FEES APPLY
SHIPPING OF ALL FRAGILE ITEMS WILL BE SHIPPED VIA UPS
CONTACT WARREN LIQUIDATION AUCTION & RESALE 214-308-1480 WITH QUESTIONS REGARDING LIMITED SHIPPING
ALL WINNING BIDDERS ARE RESPONSIBLE FOR PACKING THEIR OWN ITEMS AND ARE ENCOURAGED TO BRING BOXES, BAGS, TOTES AND ANY OTHER PACKING MATERIALS NEEDED TO PACK ITEMS. PER POLICY WLAR STAFF CAN NOT PACK ANY ITEMS FOR WINNING BIDDERS
ALL ITEMS ARE TESTED AND IN WORKING CONDITION UNLESS OTHERWISE NOTED IN LOT DESCRIPTION. INSPECTION AND OR TESTING OF ITEMS ARE ALLOWED DURING PREVIEW TIMES ONLY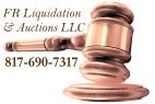 FR Liquidation & Auctions Inc
Address: 1112 Whistle Stop Dr, Saginaw, TX 76131 / Phone: 817-690-7317
Categories: Housewares & Home Decor, Clothing & Accessories, Jewelry & Watches, Glassware, Vintage & Antiques, Silver & Gold, Estate Liquidation
213 Items
Closing Tuesday
5d 10h 9m
HUGE COLLECTION OVER 400 DOLLS, JEWELRY & MORE!!
#STERLING, #COINS, #JEWELRY, #LEAD-CRYSTAL, #ANTIQUES, #DOLLS, #COACH-PURSE, #BARBIE, #DISNEY, #EFFANBEE, #TOWLE, #DANDEE, #HOMER-LAUGHLIN, #UNEEDA, #PORCELAIN, #SEYMOUR-MANN, #HORSEMAN, #IDEAL, #MADAME-ALEXANDER AND MORE
817-690-7317 - fred@frlauctions.com
Preview Nov 27th 11:00 pm - 2:00 pm
Pick up Nov 29th 12:00 pm - 6:30 pm
Cash, PayPal, Chase quickpay, Zelle pay, Visa, Mastercard
Local Pick up only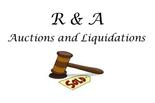 R & A Auctions & Liquidations
Address: 3020 I-20 WEST, Grand Prairie, TX 75052 / Phone: 972-998-4874
Categories: Computers & Electronics, Tools & Hardware, Housewares & Home Decor, Toys & Games, Sports & Outdoors, Lawn & Garden, Firearms & Ammunition, Jewelry & Watches, Gaming gear, Vintage & Antiques, Business Liquidations, Machinery & Industrial, Automotive Parts, Appliances, Music Instruments
60 Items
*****COMING SOON*****
MULTI-CUSTOMER WAREHOUSE SALE
VINTAGE RIFLES, LARGE AMOUNT OF INDUSTRIAL-AUTOMATION PARTS AND EQUIPMENT, ELECTRONICS, VINTAGE ITEMS, TOOLS, HOUSEWARES AND DECOR, NEW TOYS (PERFECT FOR CHRISTMAS), AUTOMOTIVE, SPORTS COLLECTIBLES/MEMORABILIA, COMPUTERS & RELATED, AND MUCH, MUCH MORE!!
ITEMS WILL BE ADDED DAILY AND WILL BEGIN RUNNING SOON!!
PREVIEW: DECEMBER 4TH & 5TH FROM 5:00 PM - 6:30 PM
AUCTION CLOSING: DECEMBER 7TH STARTING AT 7:00 PM
PICK UP DAYS/TIMES: FRIDAY, DECEMBER 8TH FROM 5:00 PM - 7:00 PM AND SATURDAY, DECEMBER 9TH FROM 9:00 AM - 1:00PM
KEEP CHECKING BACK!!!!!