| | |
| --- | --- |
| Showing 1 to 2 of 2 auctions | |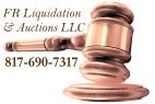 FR Liquidation & Auctions Inc
Address: 1112 Whistle Stop Dr, Saginaw, TX 76131 / Phone: 817-690-7317
Categories: Housewares & Home Decor, Clothing & Accessories, Jewelry & Watches, Glassware, Vintage & Antiques, Silver & Gold, Estate Liquidation
213 Items
Closing Tuesday
5d 10h 14m
HUGE COLLECTION OVER 400 DOLLS, JEWELRY & MORE!!
#STERLING, #COINS, #JEWELRY, #LEAD-CRYSTAL, #ANTIQUES, #DOLLS, #COACH-PURSE, #BARBIE, #DISNEY, #EFFANBEE, #TOWLE, #DANDEE, #HOMER-LAUGHLIN, #UNEEDA, #PORCELAIN, #SEYMOUR-MANN, #HORSEMAN, #IDEAL, #MADAME-ALEXANDER AND MORE
817-690-7317 - fred@frlauctions.com
Preview Nov 27th 11:00 pm - 2:00 pm
Pick up Nov 29th 12:00 pm - 6:30 pm
Cash, PayPal, Chase quickpay, Zelle pay, Visa, Mastercard
Local Pick up only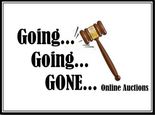 Going Going Gone online Auctions
Address: 3802 Rufe Snow Dr, North Richland Hills, TX 76180, North Richland Hills, TX 76180 / Phone: 817-891-8504
Categories: Computers & Electronics, Housewares & Home Decor, Sports & Outdoors, Lawn & Garden, Clothing & Accessories, Jewelry & Watches, Glassware, Business Liquidations, Furniture, Machinery & Industrial, Estate Liquidation, Appliances
8 Items
November Brings another fine auction from Multi Consignors / Estates And Final Part of Discount Store Auction.
This Auction preview date is on 11/29/2017 From 11:00A.M. to 3:00 P.M.
The Auction Date is on 11/30/2017 @ 7:00 P.M.
The Auction Pick Up Date in on 12/2/2017 From 9:00 A.M. to3:30 P.M
This Auction is located At 3802 Rufe Snow Dr, North Richland Hills, Tx 76180,
Contact info; Phone 817-891-8504, E-Mail; triplegauctions@gmail.com.
We Accept Cash and Credit cards, No Checks and No shipping at this time.
18% buyers premium - 3% discount on buyers premium for cash buyers.