| | |
| --- | --- |
| Showing 1 to 3 of 3 auctions | |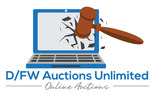 DFW Auctions Unlimited
Address: 1705 Edgecliff Rd., Fort Worth, TX 76134 / Phone: 817-500-6511
Categories: Computers & Electronics, Tools & Hardware, Housewares & Home Decor, Toys & Games, Sports & Outdoors, Lawn & Garden, Firearms & Ammunition, Clothing & Accessories, Jewelry & Watches, Gaming gear, Glassware, Vintage & Antiques, Artwork & Prints, Furniture, Estate Liquidation, Appliances, DVD movies & CD's, Misc. items, Books, Military collectibles
165 Items
This sale includes #CUSTOMMADEITALIANFURNITURE, #MONTBLANCWATCH, #HUSQVARNASTEELROLLER, #STEELDISC, #AGRIFABSPREADER, #RUGERPISTOL. #H&RREVOLVER, #BERETTASHOTGUN, #STEVENSRIFLE, #REMINGTONRIFLE, #WESTERNFIELDSHOTGUN, #ANTIQUES, #TOROZMASTERMOWER, #SOLIGENSTAINLESSSTEELFLATWARE, #BARSTOOLS, #SINGERSEWINGMACHINE, #WOOLRUGS, #FURNITURE, #HAVERTYSLEATHERCOUCH, #HDTELEVISIONS, #ELECTRONICS, #APPLEMACBOOK, #ANTIQUEFURNITURE, #CHINESETHEMEDART, #ROOMDIVIDERS, #HOMEDECOR, #YAMAHARECIEVER, #COLLECTIBLES, #STIGAPINGPONGTABLE, #DENACCIWATCHES, #TERRACOTTAWARRIORS, #NITENDOGAMECUBE, #SAMSUNGSTAINLESSSTEELREFRIDGERATOR, #CENTURYFURNITURE, #FRIGIDAIREGASDRYER, #GEWASHINGMACHINE, #LIFETIMEFOLDINGTABLES, #CAMPING, #BROYHILLCABINETS, #DUCANEPROPANEGRILL, #HAMPTONBAYPATIOFURNITURE, #STARTRACTREADMILL, #POWERWASHER, #DOEHLERCHEST, #RASCALSCOOTER, #GUNSAFE, #LAWNANDGARDEN, #REELCRAFT, #RADIOFLYERWAGON, #MAYTAGDEEPFREEZE, #BERNHARDTCHAIR, #FITMASTERMESSAGETABLE, #MARTINHOUSE, #GOATS, #CHICKENS AND MUCH MORE
Please Note: Firearms Buyers are required by Federal Law to pass a criminal background check prior to taking possession of firearms. Our Local dealer will perform the check for $25.00 ($20.00 for CHL holders to complete transaction papers). Failure to pass background check will result in refund less $10.00 processing fee to auction house
PLEASE PREVIEW - ALL ITEMS SOLD AS IS
Buyers must bring own equipment, tools & labor to remove items
ALL PAYMENTS MADE THROUGH CHASE QUICK PAY, ZELLE AND PAYPAL GO TO MICHAEL_KEEDY@YAHOO.COM
*BUYER BEWARE*
NOTICE: 18% buyer's premium on all purchases with a 3% discount for cash
YOU CAN NOW PAY BY CREDIT CARD THROUGH YOUR AUCTIONSPEAR.COM BIDDER ACCOUNT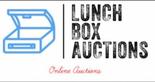 Lunch Box Auctions
Address: 1225 w trinity mills rd, Carrollton, TX 75006 / Phone: 903-944-1843
Categories: Computers & Electronics, Tools & Hardware, Housewares & Home Decor, Toys & Games, Lawn & Garden, Clothing & Accessories, Gaming gear, Glassware, Artwork & Prints, Furniture, Estate Liquidation, Appliances, Books
182 Items
Closing Wednesday
6d 18h 7m
COMING SOON......LBA CARROLLTON STORAGE UNIT AUCTION
..........................................................................................
GATE CODE WILL BE POSTED DAY BEFORE CLOSING AND MSG TO YOU
PLEASE PREVIEW - ALL ITEMS SOLD AS IS
BUYERS MUST BRING OWN EQUIPMENT, TOOLS AND LABOR TO REMOVE ITEMS
903-944-1843 EMAIL: LUNCHBOXAUCTIONS1105@GMAIL.COM
CLOSING 8pm- 2 lots per minute
Preview 11am
Pick up one day Only NO exceptions
STARTS @12PM
Cash, Cashapp, PayPal, Zelle pay, Visa, Mastercard
Local Pick up only
NOTICE: 18% buyer's premium on all purchases with a 3% discount for cash
All contents of this auction are copyright protected intellectual property of Lunch Box Auctions ©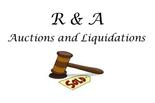 R & A Auctions & Liquidations
Address: 3020 I-20 WEST, Grand Prairie, TX 75052 / Phone: 972-998-4874
Categories: Computers & Electronics, Tools & Hardware, Housewares & Home Decor, Toys & Games, Sports & Outdoors, Lawn & Garden, Firearms & Ammunition, Clothing & Accessories, Jewelry & Watches, Gaming gear, Glassware, Vintage & Antiques, Artwork & Prints, Silver & Gold, Coins & Currency, Business Liquidations, Furniture, Machinery & Industrial, Estate Liquidation, Appliances, Music Instruments, DVD movies & CD's, Health & Beauty, Misc. items, Books, Military collectibles
104 Items
*****COMING SOON*****
ONE-OF-A-KIND COLLECTOR'S AUCTION!!!
LARGE COLLECTION OF RARE WINCHESTER RIFLES INCLUDING SOME DATING BACK TO THE MID-TO-LATE 1800'S, AN 1875 COLT BISLEY PISTOL, AN 1890'S OWENSBORO WAGON COMPANY FULL-SIZE WAGON IN GREAT CONDITION, ANTIQUES, LOTS OF VINTAGE ITEMS INCLUDING A NO. 287 FIRE DEPARTMENT PEDAL CAR PLUS COLLECTIBLE METAL TOYS, CARS, TRUCKS, MID-CENTURY COCA-COLA COOLER, CAST IRON COLLECTIBLES, GAS/OIL MEMORABILIA AND SIGNAGE, AND MUCH MORE!!!
CONTACT US FOR MORE DETAILS AND INFORMATION
RAUL PADRON AT 972-998-4874
AUCTION STARTS: THURSDAY, NOVEMBER 14TH, 2019
AUCTION CLOSES: TUESDAY, NOVEMBER 26TH, 2019
PICK UP: WEDNESDAY, NOVEMBER 27TH, 2019
YOU DEFINITELY DO NOT WANT TO MISS THIS AUCTION!!!
Buyers must bring own equipment, tools & labor to remove items
We accept Cash, Venmo, CashApp, Chase QuickPay, Zelle, and Visa/Mastercard