| | |
| --- | --- |
| Showing 1 to 2 of 2 auctions | |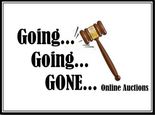 Going Going Gone online Auctions
Address: 3806 Rufe Snow, North Richland Hills, TX 76180 / Phone: 817-891-8504
Categories: Tools & Hardware, Housewares & Home Decor, Toys & Games, Sports & Outdoors, Lawn & Garden, Firearms & Ammunition, Clothing & Accessories, Jewelry & Watches, Gaming gear, Glassware, Vintage & Antiques, Artwork & Prints, Silver & Gold, Coins & Currency, Business Liquidations, Furniture, Appliances, Health & Beauty, Misc. items, Books
158 Items
Closing Thursday
2d 21h 44m
SHORT QUICK SALE AUCTION
Closing Friday: 6/27/2019 07:00 pm CDT
PLEASE PREVIEW - ALL ITEMS SOLD AS IS.
BUYERS MUST BRING OWN EQUIPMENT, TOOLS AND LABOR TO REMOVE ITEMS
This Auction Includes #Furniture, #Tools, #Demilled Steyr M-95 Rifle,#
Commercial Packing Tape, #Vintage toys, #Pre-Band Coyote Pelt,
#Hunting Knifes, #Bird Cages,
# One Dollar Silver Certificates, #Silver Half Dollars and Coins, #Vacuums,
#Foreign Money, #Yard Equipment, #Prints, #Cookware, #Glassware,
#Antiques, #Shipping Coolers, #Electronics, #Cleaning supplies,
#Mannequin Heads, #Carts, #Instant Hand Sanitizer, #Sports memorabilia,
#Collectables, #Beer Taps, #And More...
PREVIEW;
By Appointment Only:
Call 817-891-8504 to Schedule
CLOSING;
Thursday 06/27/2019 07:00 pm
PICK-UP/REMOVAL;
Saturday 06/29/2019
10:00 A.M. to 4:00 P.M. Only.
PLEASE BID ONLY IF YOU CAN PICK UP AT SCHEDULED DATE AND TIMES
Auction Location: 3806 Rufe Snow Dr, North Richland Hills, TX 76180 / Phone: 817-891-8504
All photos & descriptions of this auction are copyright protected intellectual property of Going Going Gone Auctions ©
NOW TAKING "SQUARE" ON LINE PAYMENTS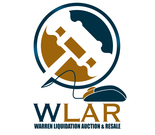 Warren Liquidation Auction & Resale
Address: 2529-H MINNIS DRIVE, Haltom City, TX 76117 / Phone: 817-881-3136
Categories: Computers & Electronics, Tools & Hardware, Housewares & Home Decor, Toys & Games, Sports & Outdoors, Lawn & Garden, Firearms & Ammunition, Clothing & Accessories, Jewelry & Watches, Gaming gear, Glassware, Vintage & Antiques, Artwork & Prints, Silver & Gold, Coins & Currency, Business Liquidations, Furniture, Machinery & Industrial, Estate Liquidation, Automotive Parts, Automobiles, Appliances, Music Instruments, DVD movies & CD's, Health & Beauty, Misc. items, Books
141 Items
W.L.A.R AUCTION HAS SOMETHING FOR EVERYONE.
ALL ITEMS SOLD "AS IS"
Caveat Emptor (Buyer Beware) all items sold as is. Content condition and authenticity are unknown. No guarantees or warranties expressed or implied. No refunds or exchanges will be given. No assumptions should be made about any items in this auction. Buyer is responsible to have inspected thoroughly the merchandise and satisfied themselves of its quantity, condition, value, title and bid based upon that judgment solely.
PREVIEW
7/5/19 12pm to 3pm
CLOSING
7/5/19 7pm
PICK-UP/REMOVAL
7/6/19 12pm to 5pm
ONE DAY PICK UP ONLY
***ANY AND ALL LATE PAYMENTS/PICK UPS WILL BE CHARGED $25 FEE***
LOCAL PICK UP
LIMITED & NATIONWIDE SHIPPING AVAILABLE
SHIPPING AND HANDLING FEES APPLY
SHIPPING OF ALL FRAGILE ITEMS WILL BE SHIPPED VIA UPS
CONTACT WARREN LIQUIDATION AUCTION & RESALE 817-881-3136 WITH QUESTIONS REGARDING LIMITED SHIPPING
Buyer must remove ALL items won and may be charged a removal/disposal fee for any items not removed from auction site and bidding privileges may be revoked/suspended.
All contents of this auction are copyright protected intellectual property of Warren Liquidation Auction & Resale©